TRAVERSE CITY — Locals facing crises have a new place to turn next month — Northern Lakes Community Mental Health Authority brings its new 24/7 crisis hotline online April 1.
The service, soon reachable at 1-833-295-0616, takes over as the Northern Lakes-contracted Third Level Crisis Hotline ends its services April 30.
The switch means every new call is answered by a licensed mental health professional — before, calls were met by a mix of licensed staff and volunteers, said Joanie Blamer, Northern Lakes chief population officer for mental illness.
Staffers aim to resolve an emergency over the phone. If that doesn't work, they can send out Northern Lakes crisis team members for a more personal approach.
It means faster resolutions, Blamer said.
"Travel time, especially after hours, can take a lot — that 15, 30 minutes, hour, can seem like a lifetime when you're in crisis," she said. "Now, they'll be able to speak with a professional right away and get help right away."
Especially with Northern Lakes' geography — the crisis and mental health-focused organization covers six counties: Grand Traverse, Leelanau, Crawford, Missaukee, Roscommon and Wexford.
Anyone in that region can use the hotline, regardless of health status, age or type of crisis.
Calls range from family disputes to struggles coping with loss and suicidal behavior.
"People have traumas related to all sorts of things — it's a broad spectrum," said Northern Lakes CEO Karl Kovacs. "Crisis isn't defined as (just) being a danger to yourself or others. It's self-defined."
That's what makes Northern Lakes' services, especially the hotline, so important, he added.
"Our whole goal is to better deal with crises within the community, and keep people from ending up in the emergency room for help instead," Kovacs said.
The hotline meshes well with the organization's other crisis services, offered in offices, hospitals, schools, local jails and other community settings.
Team members work around the clock to make sure people get the help they need.
"We're here to help keep people safe in their worst moments, to provide resources and hopefully make things a bit better for them," said Stacey Kaminski, operations manager for crisis services, who oversees the organization's crisis response teams. "Every time it's a little bit different."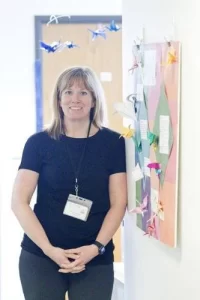 Her teams will work closely with the Grand Rapids-based Protocall Services, which provides telephonic behavioral health services and runs the hotline. Local teams serve situations that need more than a phone call. Those crisis workers meet people where they're at.
From there, follow-up varies.
"We make sure people are connected to whatever services they need," Kovacs said. "If that means evaluating someone for hospitalization, they can do that."
The organization's FAST — Family Assessment and Safety — team adds another layer. Those staff are trained specifically to work with families and children undergoing crisis, and work in school and home settings.
The hotline's predecessor, Third Level, began serving locals in 1972, offering suicide prevention and crisis intervention services. It was based locally.
The decision to contract Protocall for the new hotline, Kovacs said, came after a wide survey last year.
He said the company's experience, training and track record proved attractive.
"We are trying, over the last couple years, to enhance crisis services in the community," Kovacs said.
Northern Lakes' crisis services are funded via grants from the Michigan Health Endowment Fund and the state's Substance Abuse and Mental Health Services Administration.
The organization also serves adults with mental illness and disability and children with severe emotional disturbances. Other efforts include coordinating housing for northern Michigan's elderly and disabled.
See more on those services at www.northernlakescmh.org.
Kovacs expects the hotline to only bolster those efforts.
"If someone feels like they're in a crisis, we want them to call — regardless of time of day," he said.
This article originally appeared on record-eagle.com.