Starting this semester, Rowan University students have access to a powerful mental health support resource that's available at no cost – anytime and anywhere they have an internet connection.
Through a partnership with Togetherall, an online mental health service, students may access community and professional support as an extension of Rowan's existing relationship with ProtoCall Services, which provides after-hours counseling center coverage.
All interactions through Togetherall are anonymous and supervised by licensed mental health practitioners.
"We want our students to understand that it's okay to not be okay," said Wellness Center Associate Director Amy Hoch. "Living through the Covid-19 pandemic has been difficult for everyone, but the college age group in particular is dealing with unprecedented levels of anxiety, depression and stress—and the impact of isolation and social injustice is significant."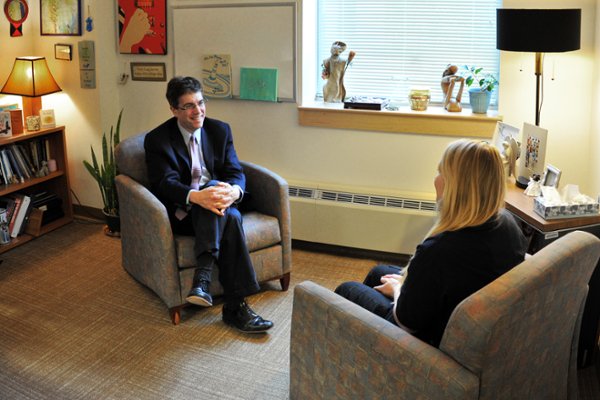 The Togetherall partnership is one of several ways Rowan is expanding student mental health services through the Wellness Center. The University is also a member of JED Campus, which supports students with mental health, substance use and suicide prevention efforts. Located in the Wellness Center, Rowan's department of Counseling & Psychological Services offers a variety of mental health support options including individual and group counseling and support for a variety of concerns including alcohol and substance abuse, eating disorders and questions about sex and sexuality.
Hoch said the Wellness Center for 2021-22 adopted the theme "Together We Thrive," a concept that encourages students to seek support when they or their friends need it. She said Togetherall's online, 24/7 support network compliments services already offered, as well as the notion that students need not ever feel desperate or alone.
Hoch added that minority students are at an even greater risk for mental health issues, and that the connection they can find online through the new service can help.
"Togetherall gives students an opportunity to connect anonymously with others experiencing similar challenges," she said. "Moreover, the platform offers the reliable safety net of having live clinicians monitoring the community in case there's a need for crisis intervention."
Matthew McEvoy, senior vice president and general manager of Togetherall in North America, said that a need for access to mental health services was exacerbated by the ongoing pandemic.
"Nearly 18 months in, we may be getting used to the way we have to live right now, but the fears and uncertainty are still real and persistent," McEvoy said. "We need to equip students with easy-to-use mental health resources they can access 24/7, so they can reach out for support the moment they need it."
To access the service, Rowan students can visit the mobile-responsive webpage www.togetherall.com and enter their academic email address to register.
This article originally appeared on today.rowan.edu.