University of Kentucky students can now sign up for a powerful mental health support resource that's available to them at no cost, anytime and anywhere they have internet connection.
Starting today, students will be able to benefit from receiving and providing support through Togetherall, an online peer-to-peer community that is accessible 24/7. Interactions on the platform are anonymous and supervised by licensed mental health practitioners — empowering students to safely share their thoughts and feelings in an inclusive environment.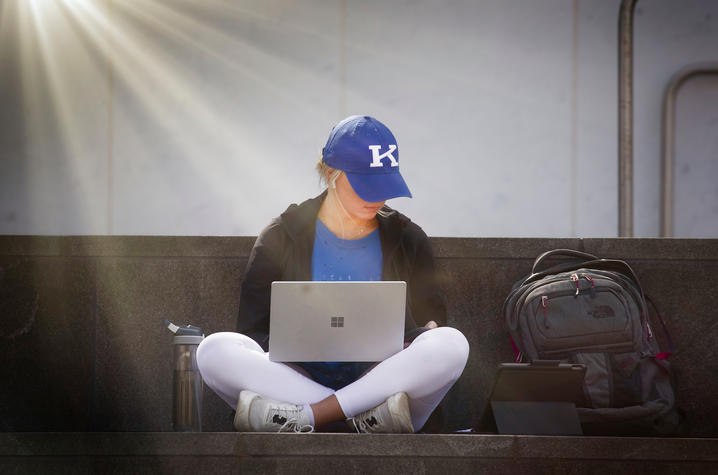 The university is partnering with Togetherall as an extension of its existing relationship with Protocall Services, which provides after-hours counseling center coverage.
Taking a holistic approach to, and ensuring a continuum of care for, student well-being have long been foundations of UK's strategic initiative as an institution of higher learning — a focus supported strongly by Office for Student Success efforts to implement a stepped-care model for mental health. Additionally, throughout the COVID-19 pandemic, UK has sought additional resources to help students combat isolation, anxiety and depression, no matter where they are physically located.
"Even under normal circumstances, university life is a demanding and stressful experience for students — and we all know that there is nothing normal about the times we've been living in since 2020. Moreover, the events of the pandemic have forever changed our environment, personal interactions and general expectations," Corrine Williams, acting associate vice president of student wellbeing, said. "While this doesn't change the availability of any of our existing resources, like the Counseling Center, our goal is to help every UK student find their sense of personal well-being through a variety of tools and resources. Togetherall helps us do this by providing a welcoming community of peers whose shared experiences help to normalize the mental health challenges that our students are going through. Additionally, the anonymous nature of the platform and moderation by licensed mental health professionals eliminates fear of judgment and elevates a sense of safety — leading to candid, meaningful sharing."
"The mental health crisis we're experiencing on college campuses isn't going away just because in-person learning has resumed at many institutions. The pandemic has left a huge question mark on our lives, especially as society continues the roller-coaster ride that comes with COVID-19 variants and resurgence," Matthew McEvoy, senior vice president and general manager of Togetherall in North America, added. "This is why we need to equip students with continuous mental health support they can access from wherever they are 24/7 — enabling them to ask for help the moment they need it. We are proud to welcome UK students into the fast-growing community of Togetherall users and help them along their journeys to holistic well-being."
The funding is supported through the Emergency Reserve Fund in the first round of GEER funds (CARES Act). "We were fortunate to receive funds from the Kentucky Council on Postsecondary Education to help support student mental health as part of the COVID-19 relief efforts," Williams said.
To access the service, students can go to the mobile-responsive webpage (www.togetherall.com) and enter their academic email address.
This article originally appeared on uknow.uky.edu.